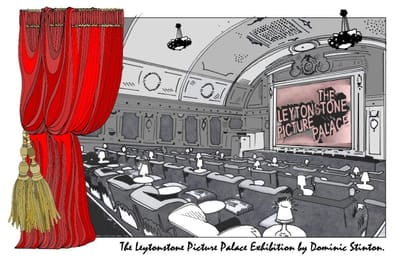 The Leytonstone Picture Palace, The Stone Space Gallery, London E11 - 12 September to 6 October 2019

"The picture theatre supplies folks with the flavour of romance…an architectural harmony of richness and restfulness"
(Theodore Komisarjevsky, The Ideal Kinema, 1930).

In 1911, The Rink Picture Palace opened at 829 Leytonstone High Road. This cinema would become a fixture of the High Road for decades. Despite the affection it was held in, Leytonstone's cinema closed its doors for the last time in 1974, and the building (including interiors by the internationally renowned designer Theodore Komisarjevsky) was demolished.
Artist Dominic Stinton payed tribute to Leytonstone's lost picture palace by recreating it in a multimedia, multi-sensory exhibition, featuring specially made film short films, newly recorded interviews, archival materials, the appearance and texture of red velvet drapes and the scent and scent and taste of fresh popcorn.

Part of Leytonstone Loves Film, produced by the Barbican in partnership with local residents and organisations. Commissioned by the London Borough of Culture 2019.